Are you having a hard time getting your child to wear their glasses? If so, don't worry. You're not alone. It's an issue that many parents face, but one that has to be solved.
Clear vision is imperative to your child's development and learning, and will only make things easier for them, but your child may not see it that way.
If you feel like you've tried everything, know that it's a common feeling amongst parents- so common that we've made a guide to help make eyewear and care easier for both you and your child!
Why Do Children Need Glasses?
A child's vision is extremely important. It provides them with all of the information about the world around them. Experts believe that approximately 80 percent of a child's learning is visual.
If your child has a vision problem, it can significantly affect them in several ways, especially in regard to their:
Social, physical and mental development
School success
Overall wellbeing
Common Vision Problems
Because children's eyes develop and change so rapidly, your child should have an eye exam every year. Eye examinations will help us check for common vision problems such as:
Symptoms to Look Out For
Children often don't know the signs and symptoms of vision problems and assume that the way they see is the way everyone sees. Because of this, children's eye issues often go unreported. To make sure your child's eyes stay healthy, keep your eye out for any of the following symptoms:
Complaints of discomfort or fatigue
Frequent eye rubbing or blinking
Short attention span
Avoiding nearsighted activities such as reading or drawing
Complaints of headaches or eye pain
Covering one eye or tilting the head to one side to see
Holding objects close to the face
Misaligned eyes
Frequently losing their place when reading
Difficulty with memory
If you notice any of these symptoms, schedule an eye exam as soon as possible.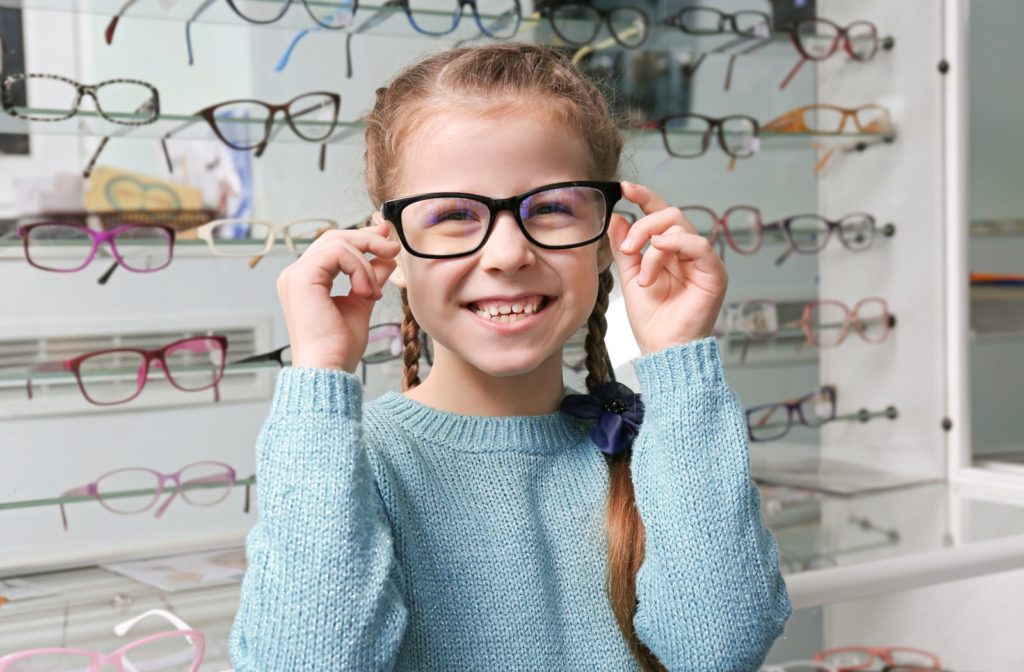 Why Won't Your Child Wear Their Glasses?
There are several reasons why your child may not want to wear their glasses, whether it be physical, emotional or social, such as:
Their glasses are the wrong fit or wrong prescription
They don't like how they look
They are anxious about what other people will think
There are signs that you can watch out for to tell which of the above factors is stopping your child from wearing their glasses.
Physical
Your child may not want to wear their glasses for no other reason than that they are uncomfortable.
Your child may not be wearing glasses for physical reasons if:
Your child is adjusting their glasses regularly
Your child seems to be irritated by their glasses
Your child is still displaying vision issue symptoms even while wearing glasses
Because your child's vision changes so quickly, it's important to make sure their eyeglasses are the correct fit and correct prescription. We can easily check for this and adjust if needed.
Emotional
Emotions are a huge part of your child's motivation. If your child is anxious about changing their appearance or worried about having to wear glasses, it may stop them from wanting to wear their glasses.
Your child may not be wearing glasses for emotional reasons if:
They are visibly upset when they have to wear their glasses
They make excuses to avoid wearing glasses
Social
Sometimes wearing glasses can make your child feel like a social outcast. It's important for children to feel like they fit in.
Your child may not be wearing glasses for social reasons if:
They refuse to wear glasses outside of the home or in front of their friends
Their attitude about wearing their glasses changes depending on their company
How You Can Help
There are several steps that you can take to make your child feel more comfortable both emotionally and socially. These include:
Start wearing glasses yourself as an example
Include your child in the process
Let them pick their own set of frames to express their individual style
Help them understand why they have to wear glasses
Make a fun day out of glasses shopping
Talk to them about other "cool" people who wear glasses
Wearing glasses can be a significant change for children. Follow the above tips to get your child excited about wearing their glasses. The more excited they are, the more likely they are to wear their glasses regularly, lowering their risk of developing vision problems.
Remember, we are always here to help you with any questions or concerns you may have. Book an appointment today!