The professional team at Pacific View Eyecare Center wants to make your visit with us as comfortable as possible; part of this process is providing you with the information you need to know about insurance providers that are available. We work with a multitude of different providers so we can make your next eye exam more accessible — our goal is to ensure that you get the highest quality of eye care you deserve.
Insurance Providers That We Work With
We work with the following insurance providers:
If you have any questions or concerns about your eligibility for coverage, please contact us.
What is Vision Insurance?
Vision insurance describes health and wellness plans that are specifically designed to cover the costs of preventative eye care processes and purchasing prescription eyewear — included in the coverage of these types of insurance plans are usually eye exams, eyeglasses, and contact lenses. In some plans, you may even be eligible for coverage relating to vision correction surgery.
Vision insurance plans will often work a bit differently than normal health insurance plans, so it is always a good idea to contact our office first before purchasing your plan. We can advise you on which insurance providers we will accept, and what type of coverage or plan you will require from your provider.
How is Vision Insurance Different than Health Insurance?
Most vision insurance plans can be described as discount or wellness benefit plans that are designed to provide benefits and discounts for an annual premium — this is unlike most medical insurance policies that often provide unlimited benefits after specific copays and deductibles have been met.
Vision insurance plans operate like a gift card with additional benefits — these plans can be used to cover basic eye care needs like eyeglasses, contact lenses, and eye exams but can also sometimes cover specialized or premium purchases like progressive lenses and vision correction surgery. With vision insurance, specialized eye care needs can become much more affordable.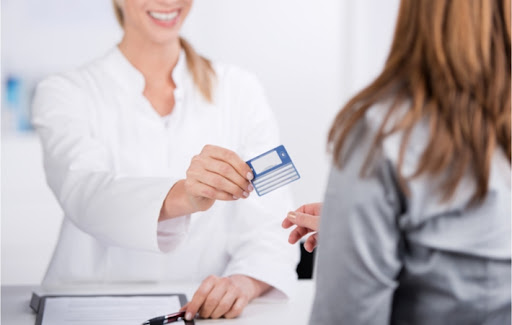 What is Covered by Vision Insurance?
Vision insurance plans are typically designed to cover basic eyecare needs and purchases like comprehensive eye exams and prescription eyewear. The specific coverage that you receive will depend on the plan you purchase — it is important to keep in mind that vision insurance plans will cover most, but not all, of your expenses.
By expanding from basic preventative eye care plans to more comprehensive options, you can purchase vision insurance plans that cover specialty options like lens coatings and enhancements — these enhancements can include anti-reflective coating, photochromic lenses, and progressive lenses. More comprehensive insurance plans can also include discounted rates on elective vision correction surgeries such as LASIK and PRK.
Independently purchased vision insurance plans are generally limited to specific benefits and discounts in exchange for an annual premium and a possible copay (depending on the plan). Thus, the scope of independently purchased vision insurance plans is typically narrower than vision insurance that is included as a part of major medical health insurance policies which are often offered through employers or other entities.
If you have already purchased a medical health insurance plan or receive insurance benefits through your employer, you may already be eligible for coverage relating to preventative eye care — check with your insurance provider and employer to see if you can receive coverage for eye exams and prescription eyewear.
Vision insurance can also be provided as a value-added benefit included in indemnity health insurance, health maintenance organizations (HMOs), and preferred provider organizations (PPOs) who are contracted with managed vision care networks.
Group vision insurance can also sometimes be available through:
Your employer
A professional association
A government program (like Medicare or Medicaid)
If your employer does not offer group vision insurance benefits within your plan, you can purchase independent vision insurance to get the coverage you need.
Confirming Your Insurance Plan Works at Pacific View Eyecare Center
While you may receive coverage for preventative eye care through your employer or another means, you will have to check with us that your provider is accepted at our office. The list of providers at the beginning of this article signifies who we can accept as payment for your eye care needs. If you need to clarify if your provider or plan enables you to receive coverage at our office, please do not hesitate to contact us.
We can confirm for you all of the specific benefits that your plan will cover for you, and can discern if any out-of-pocket payments will be required. Familiarizing yourself with your insurance plan is the best way to know when you are going to receive coverage for a purchase — every plan and provider is different, so the benefits and costs of services can vary.